I worked at Seven Cycles for nine years. My friends built this bike for me. I have undeniable biases about its supremacy as a bicycle, but much (if not absolutely all) of what I am about to say is true. The simplest thing would be not to write about this bike at all, but it's the bike I ride the most, and I really want, despite the conflict of interest, to write about it. That's why you're reading this review.
The Seven Evergreen XX is a wraith. It moves in silence, like a pebble dropping through empty space. I have never ridden a bike that felt simultaneously plush AND aggressive. There are reasons for this, reasons that set it apart from other gravel bikes, but more on that shortly.
The bike fits me perfectly, but to talk about fit isn't fair. This is a custom bike, made to measure, and the designer, my friend Neil, has designed a few bikes for me. In fact, this was the last one, so he had three other reference points (a road and two mountain bikes) to work from, and once the design was done, I sat with Rob, Seven's founder, and went over the design point-by-point, to confirm everything was right.
As a result, the bike fits like a spray tan, and that extends to the handling, which is well-nigh telepathic, again because Neil paid attention to how I like to ride and tailored the bike's fork rake, trail, etc. to my preferences. So, the fit and handling are perfect, and that's what you should get from a custom bike.
My Seven Evergreen XX is different for reasons of design and engineering. First of all, it has a curved seat tube, which allows the rear wheel to come in tighter, shortening the wheelbase and improving acceleration. The drive side chainstay is also segmented, which moves it out of the way at the bottom bracket, again, to allow that wheel to come in close, to shorten the chainstays. The seatstays have their traditional s-bend, but mine are also curved in a third plane, which means they serve as a sort of rudimentary rear suspension. The back half of the bike is like few other gravel bikes, and the result is comfort, responsiveness and agility.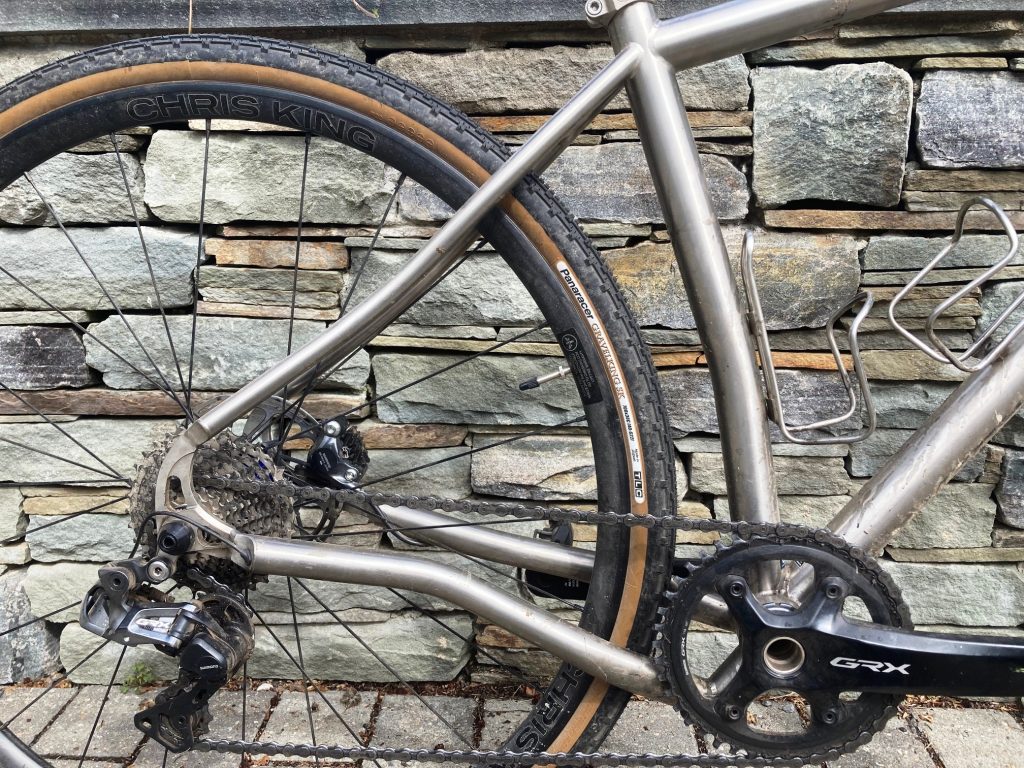 It's worth mentioning that titanium is a more naturally compliant material than some others, and the XX in the model's name connotes a tube set that is butted to its maximum extent, which is to say each tube's wall thickness is reduced to its lightest and most perfectly compliant. My friend Fez rode this bike and said it was like "stable air."
Seven Cycles did not invent the gravel bike. That honor goes to whomever first thought to turn their road bike off the pavement in search of adventure. But Seven was among the first to build a gravel bike that was not just a cyclocross bike with room for wider tires. From the beginning of the gravel movement, Seven was looking for ways to tailor the Evergreen (there are four versions) to the task of riding rough roads and singletrack, either for speed or for distance or for both, and there are few builders who have evolved their gravel designs as thoroughly as Seven has.
All of that thought has gone into my Evergreen XX, and as I said, I am biased, but that bike is something special.
---