The perfect storm began oh so quietly, sneaking up on me like my Golden Lab when I open the fridge. Monday morning dawns and oddly enough I find no substitute teaching opportunities for the day.
That's strange since teachers seem to pick off Mondays and Fridays with a sniper's precision. Whatever the case, I have a day off.
As that sunrise continues, the eastern horizon glows with a stunning orange, highlighting only a few cirrus clouds. Ah, cirrus clouds? That's a promising sign.
After a few hours of sitting at my desk, ironically, editing last week's column on how I hate the cold, I see the cul de sac out my window dried to a dull brown rather than its shining, wet black that's typical of this season.
Before I get ahead of myself, I check the temperature. Whoa! Forty-seven and climbing near 50. This is it!
Knowing myself all too well, my first ride of this season needs to be a sweet one. Not an OK-I'll-freeze-my-ass-off-for-an-hour or Fine-I'll-get-soaked-what-the-hell-I-live-in-Oregon-for-crissakes.
I've been off my bike for two months, primarily blaming the weather, although I spent the holidays with my girls rather than riding and also had a three-week bout with the flu — thanks to that subbing gig for a teacher with the flu who had 12 of 28 kids sidelined, too.
I did force myself onto the trainer enough the past two weeks to feel good about this.
I pump up my tires out on the driveway and did not feel a chill (again, about the only "mechanical" task I allow myself to perform on my bike given my lack of expertise in that field). So I went for it.
As I rolled through the neighborhoods that feeling of familiarity washed over me. Nothing special about these houses or these streets or these trees, lawns and bushes, but this is my route.
The little pitch allows me to feel what my legs have today. They're fine.
A couple minutes later I turn onto the highway, with its nice, wide paved shoulder. Almost on cue a fully-loaded logging truck zips past and jars me, reminding me of the bizarre and unique air currents they displace that are unlike any other aerodynamic rig.
I roll past some farm fields and ranches. There's the pond where I saw the horse wading on that hot summer day a few years back. Over there the two curious horses that crack me up.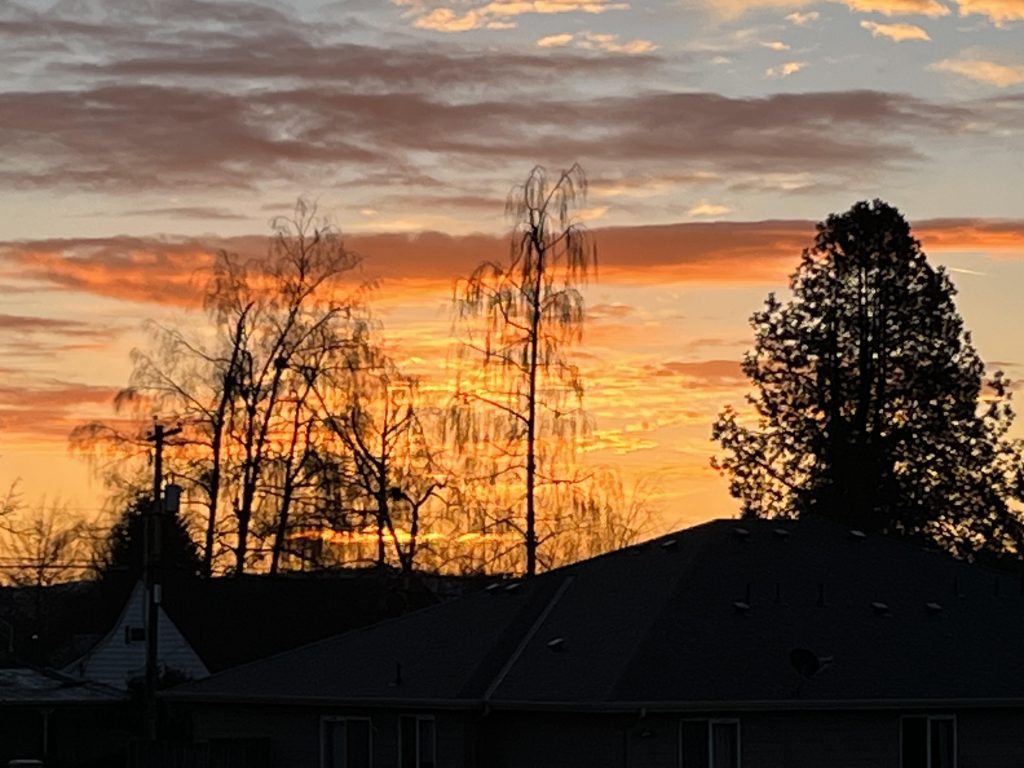 Off the highway the gravel hits as I spin past some hazelnut groves, then the cherry trees lined perfectly in rows no matter what angle you choose to look. Everything is bare, but they'll burst into full bloom always catching me off guard how quickly that happens.
The vineyards, too, stand leafless and lifeless, just itching for more days like this.
With no clouds I can see Mt. Hood covered in a white blanket poking out along the horizon. The Christmas tree farm looks like it always does, evergreen, same for the herd of cows dotting the hillside. That's where I caught the calf having breakfast one year.
The trickle of water rises above the crunching of my knobbies and, sure enough, the water floods across the road in the belly of the dip between the fields of winter hay.
Eventually I return to town, and head over to the paved trail alongside Rickreall Creek to glide along its quiet path noting the creek is high, but not too high.
A few dog walkers stroll through the city park as I cross the pedestrian suspension bridge, through the neighborhood and up the long climb before my final coast downhill back home.
All along the way it strikes me that everywhere I've lived and biked — Southern California's PCH, Colorado's Front Range, Austin's City Limits, Tennessee's Hollows and now Oregon's Wine Country — I've enjoyed a local route that's nothing out of the ordinary yet always feels extraordinary.
It's my home route that I ply countless times, yet never tire of riding it.
Time to ride.