Despite the dampness, dark and cold, I moved into the basement bedroom in search of privacy and the sense of independence as soon as my older brother headed west to Lake Tahoe. My senior year of high school drew to a close, and thanks to an amazing girl I befriended that year I found the self-confidence and courage to believe all my dreams of becoming a writer would come true. I wrote for our community newspaper covering athletes and sports at my high school, but now I wanted more. A new suburban paper just opened and they decided to give me a shot.
Time to step up my game, so I pitched a story on an athlete from New Berlin who was preparing for the 1976 Olympic Summer Games in Montreal. I paced about my bedroom for an eternity, pumping myself up enough to pick up the telephone and make the call. My hands trembled and my voice squeaked out a shaky quiver as I rehearsed the list of questions before me.
I eventually took a deep breath, and dialed the phone.
I saw recently that Cameron Crowe has taken his movie Almost Famous to Broadway. I love that movie. I lived that movie. It makes no sense, really, that people — in Cameron's case musicians, and in mine athletes — would simply open up their lives to a complete stranger, much less a teenager.
To have that unbridled trust bestowed upon me stirred something deep inside my gut, giving birth to a passionate commitment to honor and return that conviction with every bit of my essence.
If you ever wonder why a journalist protects sources like a grizzly mom shields her cubs, well, this is why.
That fire still rages inside me today, my yearning to tell stories in hopes that others can share my exhilarating experiences uncovering them. That spark got ignited on that afternoon so long ago.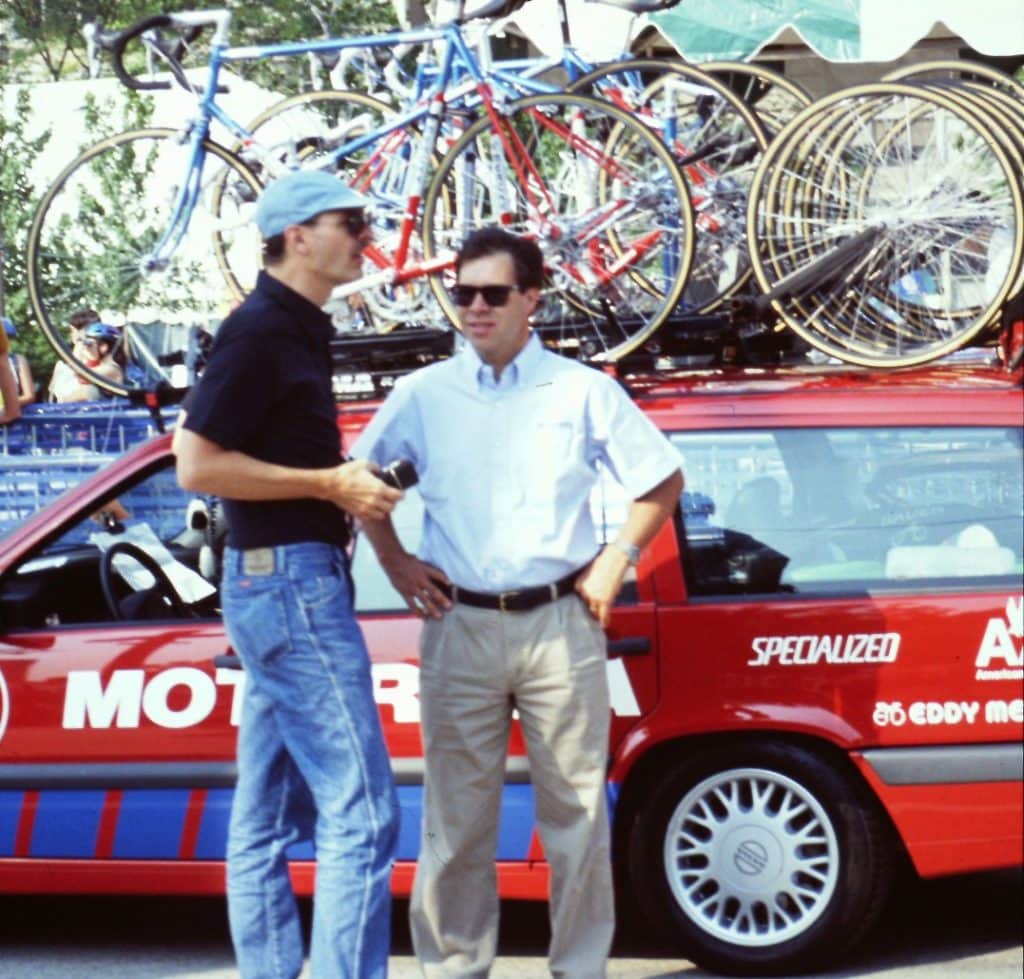 On the other end of the line, one of those great people who would make fringe sports my personal paradise, greeted me with open arms. His patience exceeded my wildest expectations. He took his time to explain his sport, his specialty — the team pursuit in track racing — to the finest detail. I soaked it all up, the experience and information, like an alcoholic, desperate for more and more and more.
Never in my wildest dreams could I envision myself years later sitting in a team car next to Jim Ochowicz as we raced around the countryside following a peloton of the elite bike racers in the land.
Och' was the ice skater turned cyclist I called that day. He went on to lead the 7/Eleven cycling team in America's first major assault of European racing. Then Motorola, and on and on.
Years and years and years would pass before cycling returned to my radar, eventually consuming all my energy. I wrote a major feature on Och' during my freelancer days. Just another kid from Milwaukee who done good. So strange how life can move full circle, like a pedal stroke powering a wheel to take us on journeys far beyond our expectations.
Time to ride.
---
Johnnie Raz is just one of the fine contributors here at TCI. Please consider subscribing as a way to support all of them, as they bring us stories from their time on the bike.