Friend of the site and former Paceline co-host Patria Vandermark shares her experience of this year's Fat Pursuit fat bike ultra-endurance race. All images by Rob Vandermark.
Friday morning finally arrived, and 7am was the start time! I woke an hour-and-a-half early to eat a hearty breakfast and get dressed. Standing on the start line, this was a rare opportunity for me to start a race with friends, the fastest, the funnest, oldest and youngest. One of the young riders was wondering out loud about not having facial hair considering how many participants out there had more protected faces. I joked that it was totally okay, considering how much I have.
It was a really good scene. I finally met Jay Petervary. Even though he had too much going on, he took a moment to come over to say hello. What do you say to someone you respect, who you've heard about for years, and who is a legend in the bikepacking/ultra/winter world? Introduce him to the dinosaur mascot along for the ride on your fork leg, of course.
Jay said some really nice stuff to me and thanked me for being there. I was impressed that in a busy moment, he had the presence of mind to chat. He said what I was feeling, deeply grateful for the event and that I could be there at all. I didn't say any of that, I was too excited, too distracted!
There were a total of 8 women racing their bikes and 45 men. There were also 4 men and 2 women out there on their feet pulling a sled behind them. I just cannot fathom walking/running that distance. Those racers would have used snowshoes instead of regular shoes if the conditions had warranted it.
It was the very best start of any race I've ever done. It was adrenaline filled, and people were falling off their bikes left and right. Some people went off course, but it was just gorgeous getting to see the large full moon looking down on us riding out into the great unknown. The Queen song "Don't Stop Me Now" ran through my mind throughout most of day 1, especially the part: "'Cause I'm having a good time, having a good time," though the rest of the lyrics of that song were apropos for what I was out there doing too.
We crossed over the highway and headed to the infamous Two Top Mountain. This was our exit from civilization for what would be many hours. We needed to make it to Checkpoint 1 (inaccessible by car) before 7pm to stay ahead of the first time cut. Those were literally the only 10 feet of pavement in the first 75 miles of the course. In fact, that may have been all of the pavement on the entire course for all I know.
Two Top Mountain
The ride up Two Top mountain was absolutely lovely. Early on I found a woman named Jennifer Hanson, a friend of a friend, and we chatted on our way up Two Top. Jennifer and her husband Jason are from Arizona. They both finished the Pursuit last year in more challenging conditions, so I reasoned no one can use the excuse about getting cold now. If Arizona riders can do it, ANYONE can do it. Jennifer was telling me about the cool trees at the top of Two Top. They were spectacular!
There wasn't a ton of hike-a-bike up Two Top, and there was zero wind. I hear this never happens! I enjoyed the cycling. My teeny 24t chainring and massive 52t cog were busy. Legs and lungs were all good. I kept my heart rate in low zone 2 and had hours of fun sightseeing.
Checkpoint 1
There was steady back and forth with other riders and those racing on foot too. It was nice seeing people frequently, having some conversations. It felt like everyone was out to help out everyone else, and I was impressed by how readily other riders asked my name and wanted to connect, like Justin, from Wyoming, who I saw more than anyone else, or Danni who I eventually caught up with (people had been confusing us for each other earlier in the day). Danni and I chatted in the little sauna at Checkpoint 1.
The sauna was surprisingly good. You might think it'd be miserable to sit in a sauna then go back out in the cold, but it was absolutely fine. The low humidity of Idaho is likely to thank. Given the emphasis on self-sufficiency Fat Pursuit engenders, I felt a bit guilty for using the sauna and for all the help I was getting from the very helpful volunteers at the checkpoint.
I ate a grilled peanut butter and jelly sandwich there too! It was the very best grilled PB&J sandwich ever, also my first grilled PB&J. It hit the spot. The checkpoint also had warm water for riders, so I filled my pack, er, Billy filled my pack. I was already unable to do basic things by myself. I also ate most of a Cup o' Noodles.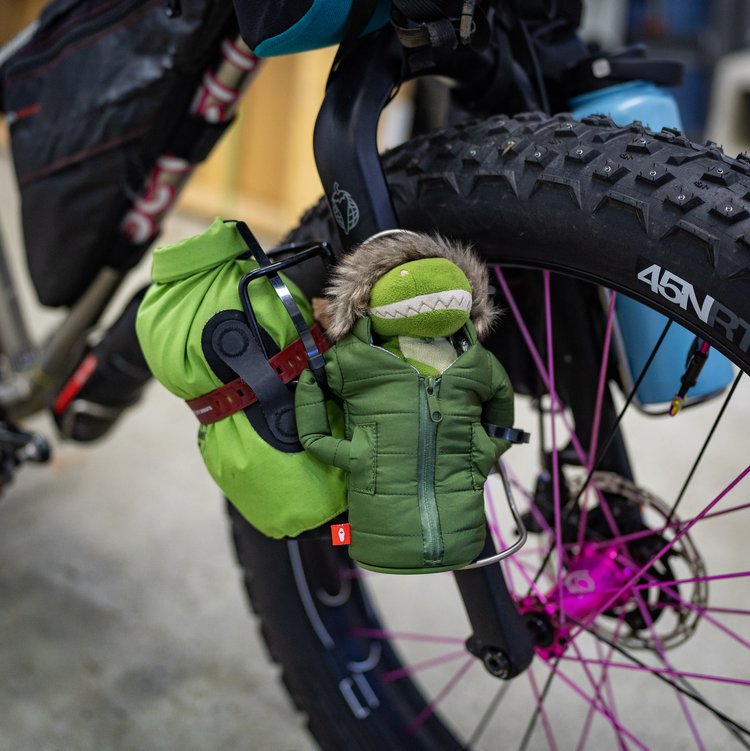 I made two mistakes here: I came in low on water. I had been rationing for the last couple hours. I should have guzzled a bunch at the checkpoint, then refilled my pack. Instead, I drank nothing and then hydrated while riding. That cost me valuable free hydration. Mistake #2 was not putting enough Untapped Maple in my water. I had the first 3 liters concentrated with Untapped Maple, and it went down well all day along while providing valuable calories. Slightly weaker water ended up making me nervous, and plain water seemed undrinkable, at least that's how it felt.
Checkpoint 1 was part of an out-and-back, so it was super nice to see riders who had already visited the checkpoint heading back out and those coming in as I was leaving. It was an opportunity to see a lot of people, cheer for others, and have some idea who was ahead and behind me.
Into the Darkness
I was off to Checkpoint 2 and a very, very long night. The time cut for CP2 was 7pm the following day – a full 24 hours after the first time cut and there were about 48 miles to cover. It began with a substantial climb. Not as steep as Two Top, but it seemed to go on and on. I heard a lot of riders say this was the hardest part of the whole ride for them. The dark came, and I was very alone. I wanted this situation. I had imagined it many times as riding into an abyss. It did get to me though, and I wasn't feeling particularly peppy.
This is the first time I put on headphones and turned on some music Rob had shared with me. Fast-paced, upbeat. Two to three hours elapsed with no one in sight. The music got me out of my funk, and I started feeling pretty good again. I stopped and called Rob to say hello. There was magic cell reception in the middle of nowhere! He offered me a good pep talk and told me there were people near me, which helped me feel less alone. It was probably 9:30pm, not exactly the middle of the night, but the early sunset made it feel late.
A racer on foot passed me. Hurray! I'm no longer alone! Next, I saw two people tucked in their little bivies alongside the trail. I was a little envious but not yet tired. I wanted to make more progress. Then I saw Justin boiling water and making a tasty trail-side meal with a dehydrated food package. There was social time when a third person came along. That was nice.
Onward!
After the groomer came through, all of the fighting I'd had to do all day to keep my bike riding straight ahead suddenly became much easier. Fighting the snow means it takes two hands to steer the bike, a quality headset that allows easy steering is not your friend, and it's hard to take a sip of water or eat food. Riding mashed potato snow is a full body workout.
After a while more, I started to bounce back and forth with Ian, who was on foot. It was 2am or so. He was talking about stopping to bivy. I thought I'd keep going until I got tired, which I was hoping would be during the daylight. I considered what he was saying and then thought about all of the snowmobiles I'd seen Friday. I knew I could sleep through their loud noises, but is it safe to bivy next to snowmobiles?
Finally, it was probably 4:30am, and Ian stopped. I still wasn't tired in the sleepy sense. This would be my first bivy outside, and it turns out it's a bit daunting in the dark of night for someone who has absolutely no idea how good her equipment will do at keeping her warm. "Will I freeze to death while setting up the bivy?" I thought. Possibly. I had a -20F bag, a quality bivy, and two thermal crash pads. The marketing departments from the companies who make this stuff say I'll live through this. I felt thankful Ian was setting his camp up with confidence.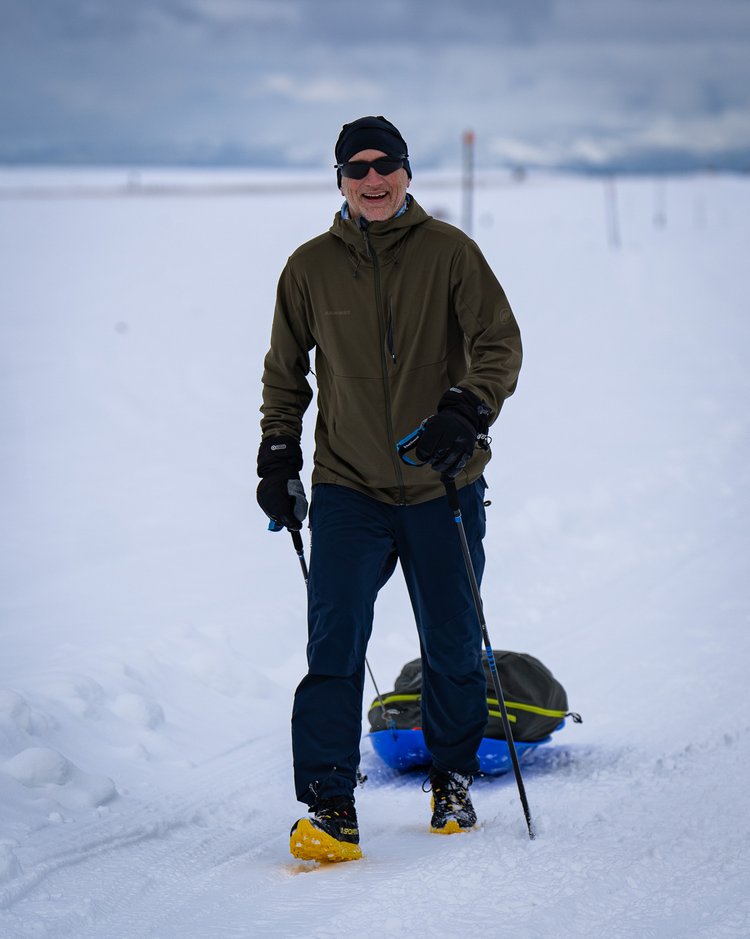 As you'd expect, Ian was faster at getting setup than I, and I didn't want to be making any noise while he was trying to sleep. I didn't want to repay his kindness by keeping him awake. It was snowing some, but still almost no wind. Aside from having some trouble seeing with the teeny little light I was trying to hold rather than using a headlamp, I got tucked in quickly and was warm enough. Then my heart started to race uncontrollably. After I zipped the bivy, I felt like I was going to suffocate. I thought I had tested the bivy enough to know that I wouldn't get claustrophobic. What was going on? I unzipped the bivy to let cold, fresh air in. That was scary since I wasn't convinced I'd stay warm with cold air flowing in. Was I having a panic attack? Was I freaking out?
The next thing I knew, Ian was telling me it was time to wake up! I'd been sound asleep for 90 quality minutes. I wasn't cold either. I had set my alarm in case I overslept, but that was just the right amount of time. I didn't feel sleepy when I climbed out of my bivy and got to work to pack everything away get moving.
Ian was long gone by then.
The Wheels Come Off
I had no power. I wasn't tired, but my legs weren't under me either. I kept looking back, thinking there was someone dragging skis behind me. Finally, I realized what I was hearing was my own labored breath. My lungs had accumulated fluid overnight.
After the sun came up, I stopped to make water out of snow. I made 3L of water. The whole process took about an hour. During this time, I was coughing, and I saw things when I coughed that I didn't care to know had just been in my lungs.
This continued.
Justin passed me. He looked strong, and I wasn't able to maintain conversation, so I told him to go on. I realized I was likely experiencing the effects of altitude sickness, something I had once before. I know I am susceptible to getting it. I had been trying to drink more going into the event, knowing hydration can help ward off altitude sickness.
My pace went from slow to slower, though. Often, I walked, since that wasn't much slower than riding, and I knew I had to stop riding when there was a chance to do so. That meant moving gradually forward all day, struggling to get each mile to pass, until I got to an area where Rob could come meet me with the car, around mile 75. Thankfully, after hours of no cell service, I was able to contact him and arrange to meet. My race was over, but I still had riding to do.
Not long after I'd decided I'd need to stop, along came an angel, a fellow racer named Erika. I'd met Erika before the race and had seen her near Checkpoint 1. She was chatty and so nice to ride with. I felt badly because she was riding faster than me, feeling better than me, but trying to wait for me, too. Finally, it made sense for her to keep moving, but her company helped quite a few of those last miles go by faster.
I'd been imaging I was seeing people, buildings, and a whole ski team too! Each time, these just turned out to be snow-covered trees. Erika had mentioned having hallucinations too. I was so glad to hear it wasn't just me turning everything into something! It sounds like this happens to a lot of people.
When I saw Rob waving at me, I was certain he was a hallucination. I didn't wave back. He waved again, and this time I knew he was real! What a relief! The moment we put my bike in the car, I wondered if I should have tried to keep riding. The biggest issue with that, had I not been reeling from the altitude, was that I would miss the Sunday toast at 12pm. I'd miss most of the people who would head home right after the toast.
I have never felt a more serious case of FOMO!
Rob drove me to Checkpoint 2, so I could see what it was like there. The volunteers had been there for so many hours but were still chipper, and they treated me as if I had ridden my bike to that point. I had a terrific chocolate chip pancake, coffee and hot cocoa mixed together, and it really helped me feel better. We then continued back to the lodge in the car and that was the end of my Pursuit. I'd been out there for 33.5 hours and 75 miles. I could not have asked for a better experience or a more complete one given the circumstances, and all of my goals with the exception of getting Chompy across the finish line were accomplished!
I was able to be there at the toast Sunday at 12pm. There was time to hear about other people's rides, hear how the night had gone for others, where they had bivied, what parts were hard, what they got out of it, all of the details. Even among the veterans, people were sharing tips that had worked for them. The learning never ends for this kind of an event.
Everyone was happy for everyone else. We'd all survived, and all ridden our own races and overcome stuff to get to the start line, and then more stuff to get to the finish. Everyone had a story of overcoming to share. We're all human, and no one is immune from life stuff that gets in the way of a perfectly smooth road to a finishline like this one.
I got to celebrate what I did accomplish even though it wasn't a finish. While I was out there riding, I was thinking it'd be fine if I never did this again. By the time Sunday rolled around, I was already thinking about next year. As long as I can get ahead of the altitude issue, I will be back. My lungs cleared up quickly. I felt 100% within two days, just a little residual soreness remained afterward.
What's next? I'm looking forward to many more special fat bike rides on the snow in New England this winter and I am going to take advantage of every opportunity to bivy, to ride longer, test out my gear and systems, ride in various weather conditions, stay connected with the winter ultra community, work on eating and drinking more while riding, and dream about future winter ultra events. I'll be watching as others take on more winter cycling challenges. I'll be rooting for people as they race the Iditarod, and I will carry the confidence and knowledge I gained at the Fat Pursuit to every challenging ride I do from now to eternity.
Thank you to Rob, the good people of Seven Cycles who built my awesome Highline XX fat bike and helped get it ready for this event, all of the wonderful people who made Fat Pursuit happen, my friendly fellow competitors out there, everyone who offered me advice along the way, my very supportive family, and everyone in the cycling community who has sent best wishes, who followed my dot, who supported me via social media. It has all meant so much to me.
I hope my ride has inspired some of you, too. The winter cycling world is wide open to all who desire to be part of it, and it's an incredible place to be.