In the time I've spent spelunking the depths of Kickstarter (as well as Indiegogo) I've found that I can categorize a majority of the products I've encountered in two broad categories. Whether they fit into one category or the other generally reflects the amount of time the people behind the project have spent in that given industry. Based on what I've seen it goes something like this:
The project was launched by folks of considerable experience within their given field, but lacking in the cash and distribution resources necessary to go a more traditional route.
The project was launched by enthusiasts of that category who think the lifers are a bunch of putzes who don't know how to innovate.
I suppose my wording of that second category betrays my lack of respect for that approach. My favorite example of this sort of thinking was the SpeedX Leopard, which was allegedly the world's first smartbike. It had a computer integrated into its stem, which looked nice and sleek but required the purchase of a new stem when the computer died (as has happened for many consumers), and now that SpeedX has gone under, there's no entity to warranty all those computers. Worse, it was, most likely, the worst-handling road bike on the market because the bike had an insanely high center of gravity. But hey, they knew better.
One of my favorite examples of the first category was industry veteran Tom Prehn's Arsenal Cycling lights. Prehn was kicking ass at the national level when I was still trying to get my first kiss. He was also the driving force behind Cateye for longer than M*A*S*H was on TV. The Arsenal lights synced to each other so that they blinked simultaneously. What that did was give anyone who saw a rider using them a sense of perspective: As a driver approached someone using the lights, the distance between them would grow. Prehn's experience gave him access to cost-effective manufacturing, as well as a sense that this was a product that would find an audience in tech-savvy consumers if not bike shop owners.
Designing a fresh pedal system is less a study in creativity than tenacity; just ask Richard Bryne, the inventor of Speedplay. This pedal utilizes an axle design that allows a pedal's stack height to be reduced to less than anything currently on the market. Not only that, the pedal body is produced in a sintered 3D printing process that makes manufacturing the pedals cost-effective today, whereas when they were designed the technology required was cost-prohibitive.
How the pedals came to be is an interesting story in its own right, but boiled down it goes like so: A Dutch frame builder approaches an engineer to design chainstays for a gravel bike that will be produced in a 3D printer. The frame builder introduces the engineer to the company that will produce the chainstays; company decides they like making parts of bicycles and asks the engineer if he has anything else they might produce, so he mentions his pedal.
The pedals are available in two versions; the ti weighs in at 100g/pr. while a stainless steel version tips in at 140g/pr. The same pedal can be used for road or mountain riding and there are versions of the cleats for both two-hole and four-hole cleat mounting. My one concern about these pedals was how people will buy new cleats once they've worn out all the sets they order in the Kickstarter.
The project is fully funded, with €59,173 ($82,262) pledged. Pedal sets begin at €247 ($343).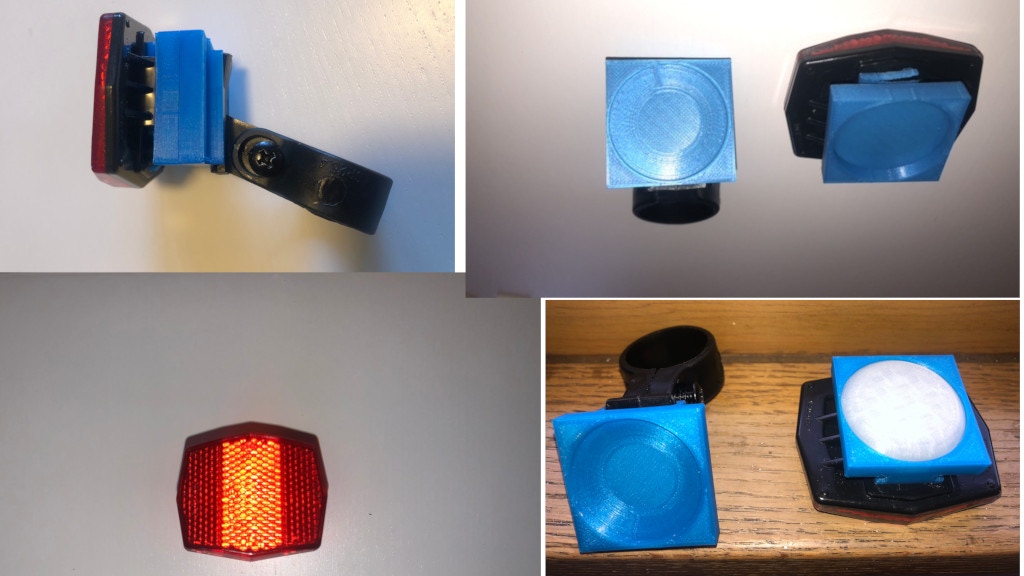 Bicycle mount for Apple Air Tag
Apple's new Air Tag is meant to go Tile one better by using the Find My app in the iOS environment and every iPhone and cellular iPad on earth as a network to find Air Tags. You needn't be within six feet of your Air Tag to find it. When I first read of them I began wondering how one might use them in conjunction with bicycles.
Cyclist and tinkerer Jason Stasiewicz has invented a small plastic holder for Air Tags that can be attached to a bicycle's reflector mount. I suspect there will be some resistance to mounting a cheap plastic reflector to a high-end road, mountain or gravel bike, but hey, this is a fresh idea. The project needs more photos to better illustrate what he has in mind, but it's a pretty great idea.
The project only recently launched and has a long way to go to reach its $8600 funding goal, but it has 24 days more to accomplish that.
Hitch-mount racks and roof racks are a significant investment. One not everyone makes. But sooner or later most folks want to go somewhere with their bike. The Easy Bike Mount (EBM) will allow someone to strap their bike to the rails of a roof rack. It's not a solution for everyone by any means, but it is a neat solution for a fair number of people.
Two supports hold the bar in place on the roof rack and three straps snug the bike to the rack. Pricing starts at $40 for early bird supporters.
The project has a long way to go; they're at $3089 of $19900, but they still have 25 days to get there.