Our hapless hero takes a crash course in re-establishing fitness.
I come around a bend and I see before me the trail running to a tree root and then air. A heartbeat passes before I am able to register that the drop following the root is at least 12 inches, but maybe more like 18. Were I on a mountain bike, I'd bring my weight down in preparation for launching off the root and hope that a full Mississippi might pass before I return to the trail. The problem is that I'm on a gravel bike and dropper post or no, I'm not willing to ask the tower for clearance to the runway.
Actually, that's not the problem. The problem is of a more technical nature. I want to stop before the root. The root is maybe a dozen feet ahead and I'm on a bike with 140mm rotors and essentially slick 38mm-wide tires. I can tell you I've never pulled on a pair of brake levers harder, because if I had, the fright would be etched in my brain as if carved into marble. The rear tire locks and I steer into the drift; meanwhile, my front brake has heated to the point that it's screaming like a train horn.
Minutes earlier, my friend Eric noted, "You're at no risk of sneaking up on anyone."
My front wheel comes to a stop at the tree root and I clip out as the rear wheel fishtails slightly to the right, and bring my foot down on the root itself. There's enough adrenaline in my system to send a Space X rocket into orbit. I stare over the ledge and my brain paints a picture of a fork, broken at the crown.
I tell myself, "Remember, we're having fun."
A good excuse
The last time I pinned a number on was the end of February, 2020, moments before we pressed pause on all of society. With no events to train for (am I really that goal oriented?), I began spending more of my ride time indoors.
The biggest rides I was doing through the spring and summer would see three, maybe four other riders, and as I wasn't struggling to keep up with them, I figured my fitness was okay. But I ate too much takeout and the number on the scale began to drift up. I managed to stop the drift after we parted ways, but as the pandemic drug on with no sense of future events looming, I could not muster the discipline necessary to inch my way back to the fitness (and waist size) I'd lost.
At the beginning of February something clicked into place, a turn in psychology that had had enough—enough of the weight, of the slow, of the knowledge that I couldn't finish a race if I tried. Perhaps my motivation was as simple as registering that I was afraid I might never again develop the fitness necessary to finish the entire Grasshopper Adventure Series. I hung up my mountain bikes and began logging consistent, easy miles to rebuild that base of fitness I'd allowed to erode like a beach at high tide.
Registering that fatigue in my legs that comes from high volume and low intensity carried an odd satisfaction. The things that makes cyclists happy, amiright?
The call
I've shared some memorable adventures with Eric. He has family in Southern California and we first encountered each other on local group rides; his brother-in-law is a riding buddy (or was). When I did the Route des Grandes Alpes back in 2010, he happened to be on the trip and over the course of the next two weeks, we became fast friends.
It was Eric whose talk of Japan sparked my interest in riding there and he was one of the two Erics in my feature, "88 Temples," for Bicycling Magazine. I've come to associate him with thoughtful conversation, demanding riding and pinch-me vistas. He also has a singular ability to sum up the more absurd situations one may encounter within a ride with Zen-like insight, making a something as incontrovertibly useless as a wrong turn an invaluable occasion for reflection.
So when I saw his name on my phone, I can tell you that my answer to his invitation was "yes" even before I knew what he was suggesting, such is my trust and affection for him.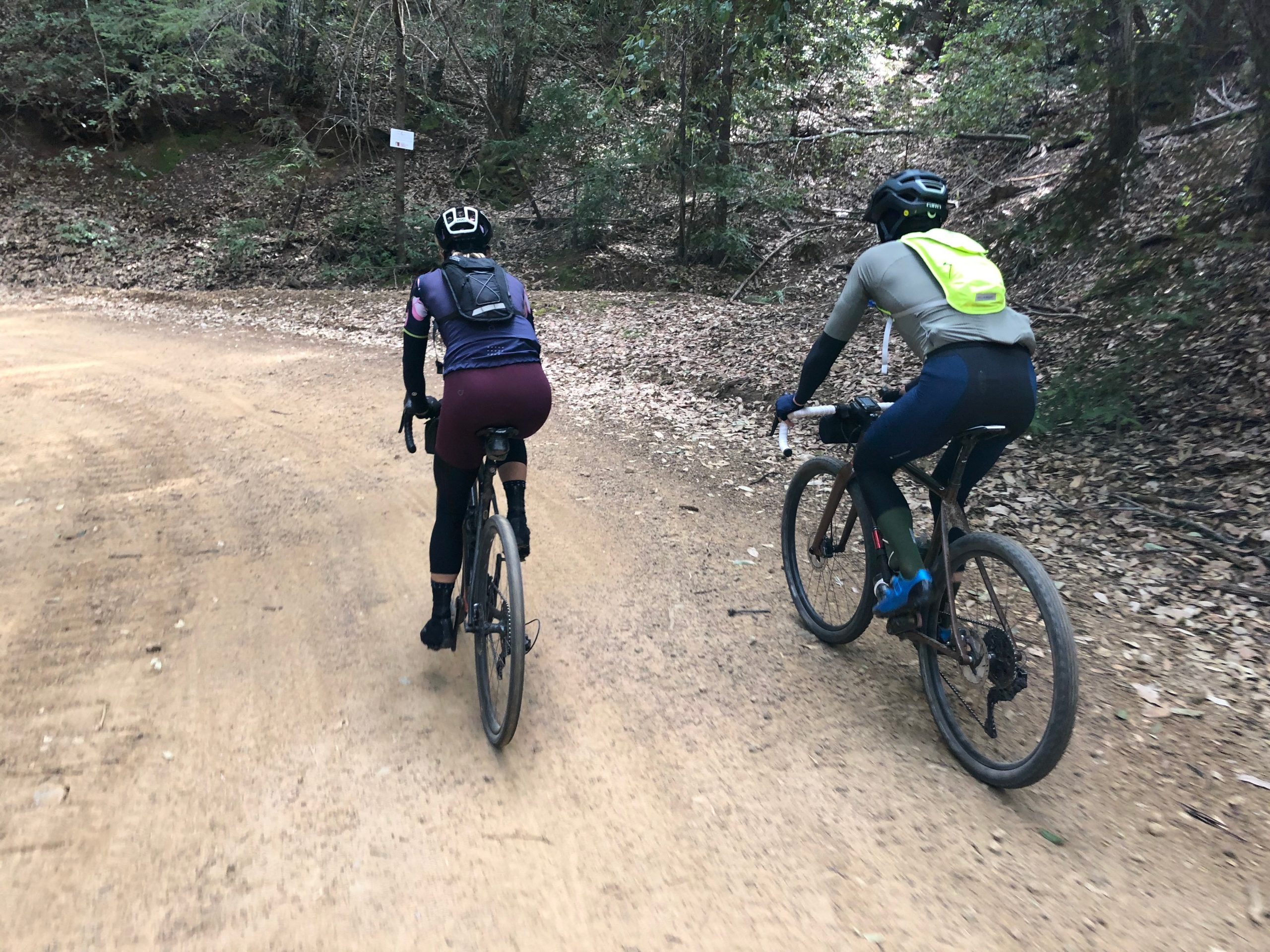 The scheme
In 2018 Miguel Crawford, the organizer of the Grasshopper Adventure Series, put on a double first. He put on the first-ever Grasshopper in Mendocino County, as well as the first two-day Grasshopper. The concept was simple enough: Begin in Ukiah and ride as much dirt between there and Fort Bragg as can be shoehorned into 80 miles. Spend the evening camping on the beach and then the next day ride back to Ukiah according to the same philosophy, but by a different route.
Our adventure would differ with the original in a couple of ways. First, Eric, his wife, Pia, and I would stay together and simply ride, not race. My girlfriend Valerie, an ultra runner notably (distinctly?) more fit than I, would drive support, meeting us once each day and then going for a run in the redwoods during her ample free time. At the end of the first day we met her at our motel in Fort Bragg and we slept in king-size beds, rather than in a tent. And while we'd miss the beach bonfire of the original, we were able to respect the conventions of the pandemic and eat a big Italian dinner in our rooms.
Another notable difference was in that in August of 2018, I was in okay, but not amazing, form. This outing was falling at the end of the third week of my second month of base miles. To say I wasn't quite ready for an undertaking of this sort is to say a raw egg might need a bit more cooking. Honestly, I just wanted to get through the two days of riding, and that was more of an open question than one might think; the Mendo Hopper had seen me put 15 hours in on the bike—seven the first day and eight the second. Our jokes about riding by moonlight also carried the foreboding of a fortune-teller's words for me.
Seriously, for all of our cycling's tribe's kidding about Type 2 fun, a desire to ride 160 miles and climb more than 16,000 feet in two days could reasonably warrant a Zoom call with a mental health counselor.
Pandemic problems
Before we even rolled we faced our first challenge. After consuming breakfast during an hour-long drive and pre-hydrating, where the hell do you relieve yourself? All the bathrooms at the high school and the park across the street were secured by deadbolt. Eventually, we found a gas station, and I promised to buy gas there before leaving, a promise we fulfilled.
Without traditional sag stops we needed to carry as much as possible. We each had two bottles and a hydration pack and Valerie had a cooler with more food and water. We were guaranteed to see her once a day.
Eric is curious as a kid. Ever asking questions, from my views on equipment—"What do you think of those GravelKings?"—to whether I remembered a given stretch of the course we were on, he's an adult sponge of views, data, realities. That he kept asking me, "Do you recall this stretch?" He sparked in me a meditation on memory. There were climbs I didn't recall, and I couldn't parse why some things registered and other things didn't. It's true that the more senses one engages in a given moment, the more likely the event is to be emblazoned in the long-term, but why I couldn't recall some of the most painful pitches of the opening climb baffled me.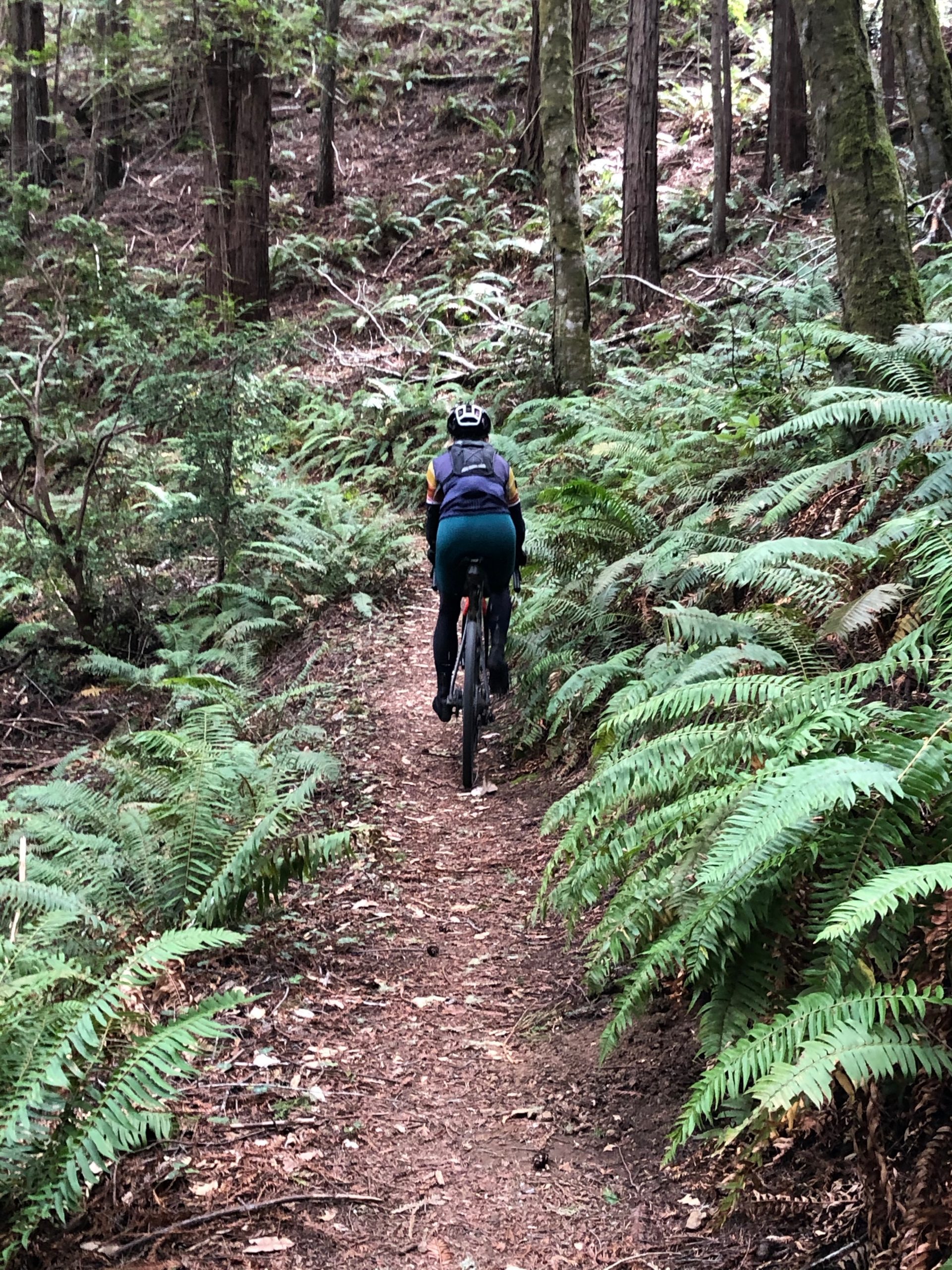 After the first climb the course drops into a high valley and turns onto dirt. And once onto dirt, the dirt road takes in eight different crossings of Tomki Creek. I chose to lead for most of these and while I picked a workable path most of the time, there were a couple of mistakes, like the one where six inches of water suddenly became knee-deep water. Oops. At least I established which line not to take.
Another steep climb took us out of the valley and gave a short, quick descent into Willits and it was the run into town that offered the only flat section of road that day. We rendezvoused with Valerie, who had already taken in a hike and was planning a run a bit later. We grabbed some of the Feedzone Portables she and I made (she mostly made them and I wrapped them).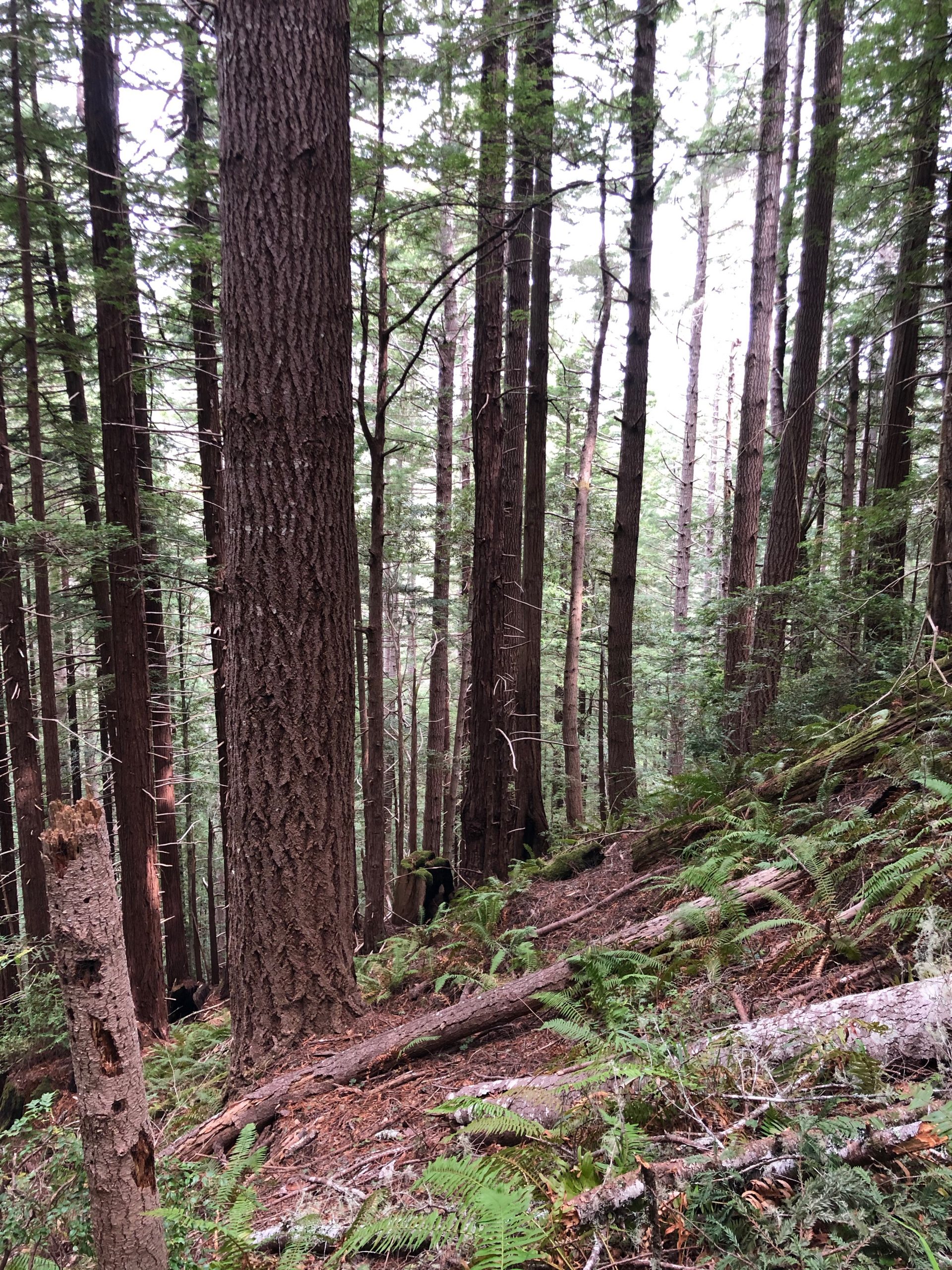 From the rude climb out of Willits, which grinds at 12-16 percent, until the course's high point at mile 48, the route climbs almost exclusively. By the time we reached that high point at 2800-ish feet, we'd already been on dirt for seven miles. Our rhythm was easy and cordial; Eric and Pia pedaled lightly and I hung on as long as possible and then they'd wait at the top of the next rise.
To ride with Eric is to ride with a witty, considerate and curious lens on the world. His observations are as funny as they are illustrative. When we ran into some confusion following the GPX track at an intersection of fire roads and we had to roll a bit down each option before we could tell what the correct response was, Eric responded by noting how surprising it is to be given a choice between true and false and find that both answers are wrong. Observations like these make any ride with Eric, no matter how directionally challenged, a source of erudite amusement.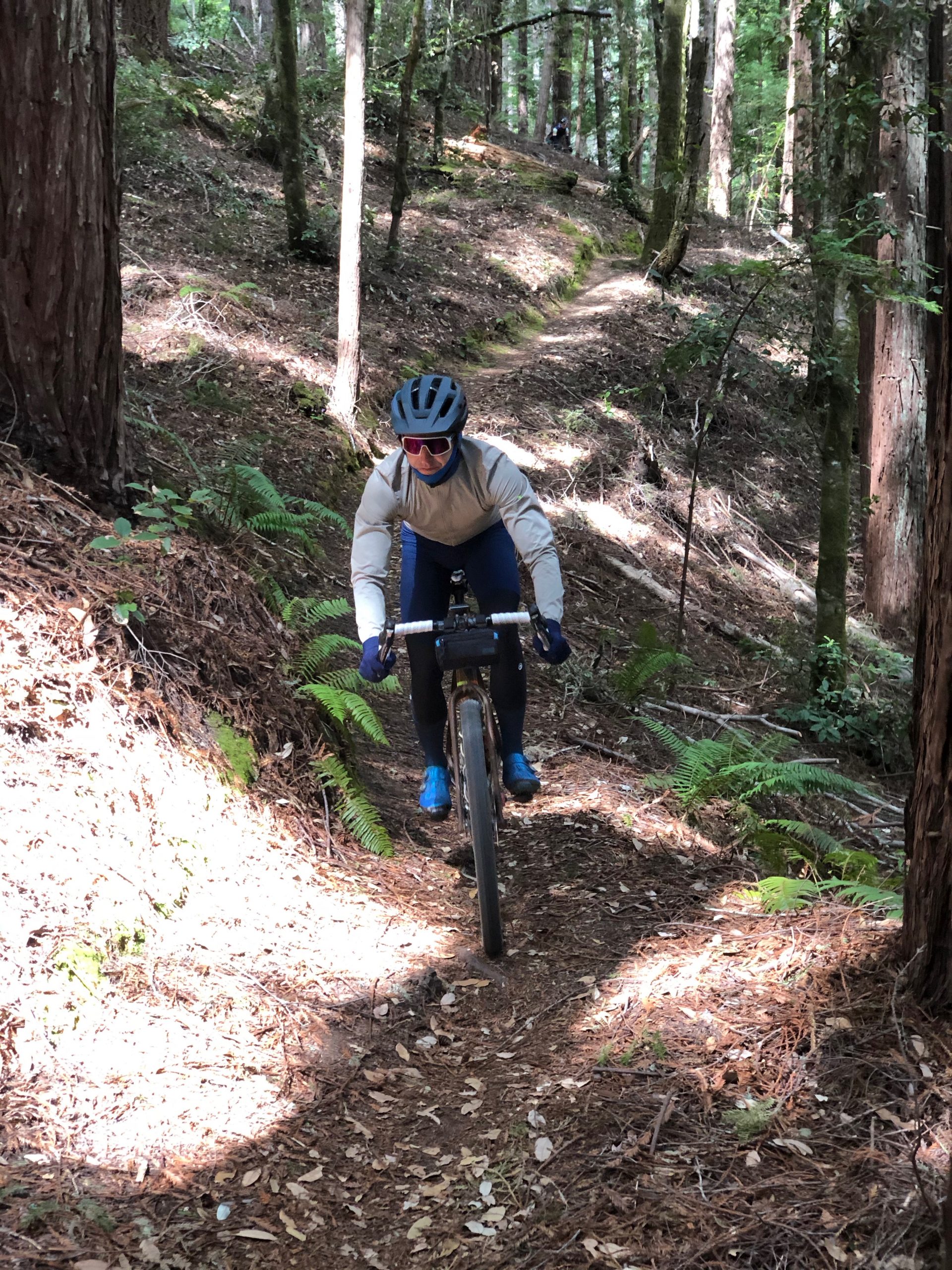 Bombs away
For the ride I'd chosen to use my Allied Alfa Allroad, on which I'd mounted the Crank Bros. gravel dropper post. The plunge down to Fort Bragg is broken by numerous climbs long enough to sting, but generally no longer than a mile. The opening part of the descent, nearly six unbroken miles of down gives up 1600 feet of elevation. This was the first long descent on which I'd used the dropper and I learned a few things about using a 100mm dropper on a gravel bike.
Lesson one is that due to lack of leverage a road bar offers, the bike was more stable when I stayed in the saddle. The second reality was something I noted in my review, but I didn't appreciate just how taxing it would be: on rocky sections when I needed to keep my butt out of the saddle, the particular leg extension of supporting myself 5cm or so above the saddle asked more of my quads than I thought was possible. That demand made the punchy later climbs a reckoning. As I sit here writing this, my quads are still sore and I'm certain that dropper contributed. The third realization I had is that the lower center of gravity a dropper affords dials up confidence so thoroughly that even on shallow descents where dropping the saddle wasn't remotely necessary, I did it anyway. More comfortable is, like the love of my mother, a constant.
Because we weren't trying to race, we regrouped at each break in the descent, though Eric, who was running 650B x 2.1-inch tires, was rarely more than a second or two behind me and he wasn't running a dropper. The surface ranged between crushed granite that sometimes turned chunky and loose and hard-packed dirt unsullied by ruts caused by vehicles.
Views from the occasional breaks in the redwoods encompassed vast forest, often dramatized by a succession of ridges in which the haze from the ocean air turned each farther ridge slightly more gray. To say the vistas rendered me speechless is to underestimate my sense of good fortune to have left a place that is essentially flat. To look out from a ridge and for 180 degrees see nothing but forest is to appreciate what the world is when unsullied by man. In that setting wonder is a religious experience.
The closer we drew to Fort Bragg we began to encounter ruts caused by trucks and undulations imprinted by tractor tracks. The relatively dry winter meant that there were few erosion ruts, which was a godsend, but the good surface generated a kind of advance anxiety—what will fire season be like?
Yum
Despite not being a big metropolis, Fort Bragg, we were relieved to see that people were wearing masks and restaurants were serving take-out only. We found an Italian place and ordered enough food to feed a family of six. I had the biggest serving of chicken parmigiana I've ever consumed. Despite being just across Hwy 1 from the ocean, no one went for a walk on the beach; we were all asleep by 10.
In the morning, it was more takeout; omelettes, french toast, pancakes, bacon—there was little we didn't order. I was so stuffed I didn't finish my last strip of bacon.
A solid night's sleep notwithstanding, my legs were toast from the previous day. Our 83 miles and 8000-odd feet of climbing was the longest ride I'd completed since some time in 2019. It was an ugly reminder than 2020 was the first year I hadn't ridden 100 miles at some point in the year since some time in the 1980s.
Not joking
The route for day two returned to Ukiah, but by a completely different course. Upon leaving Fort Bragg, we turned into Jackson Demonstration Forest and cruised logging roads until we veered off on singletrack for single steepest descent I've ever attempted by gravel bike. At the descent's finish, the singletrack gradually becomes double track then eventually fire road as it parallels Big River. Back at the coast, the course turns onto Ukiah-Comptche Road for a somewhat rolling run to Low Gap Road. This fire road sports a profile that looks like the edge of a saw except for a big climb to humble riders prior to a ripping descent into Ukiah.
I wasn't shy about the condition of my legs as we consumed breakfast at our rooms. We agreed to meet Valerie in Mendocino following our Jackson adventure, and I made a not entirely sincere promise to withhold judgment until we reached her. I suspected that the 28 miles there would be all I could take, and that I'd call it a day in Mendocino.
From the very outset as we headed inland from the coast the road climbed. It wasn't difficult but it made warming up a bit more rushed than I'd have liked. We hadn't ridden far before redwoods began to crowd the homes, then we saw a dirt turnout and a yellow gate barring the way to a logging road. The surface here was unusual for this part of California as there was a surprising amount of sand. And while the terrain rolled enough to keep our riding from seeming like one long climb, we were gradually gaining in elevation.
Pia is a woman of few words, but an eternally upbeat and mellow air. She's also fit enough to be a member of Rapha's domestic women's team. When I asked on our way to breakfast what a typical week's training was for her, she demurred by saying, "I ride a lot." Several more minutes of conversation went by before she admitted she was riding 20-25 hours a week. Only double the number of hours I'm doing. That's why it looked like she was eternally on a recovery ride. I'm honestly sorry I never saw what an attack from her looked like.
On one of the late stretches of logging road before we turned onto the singletrack, she apologized and then gave a quick kick so she could maintain traction and not get bogged down on the loose gravel. So while Eric stayed at my side, she spun up and away on the 16 percent grade. At the top I told her she had nothing to apologize for; I didn't blame her for wanting to keep traction. And, for what it was worth, I'd have gone faster if I could.
Have I seen a more polite acceleration? Surely not.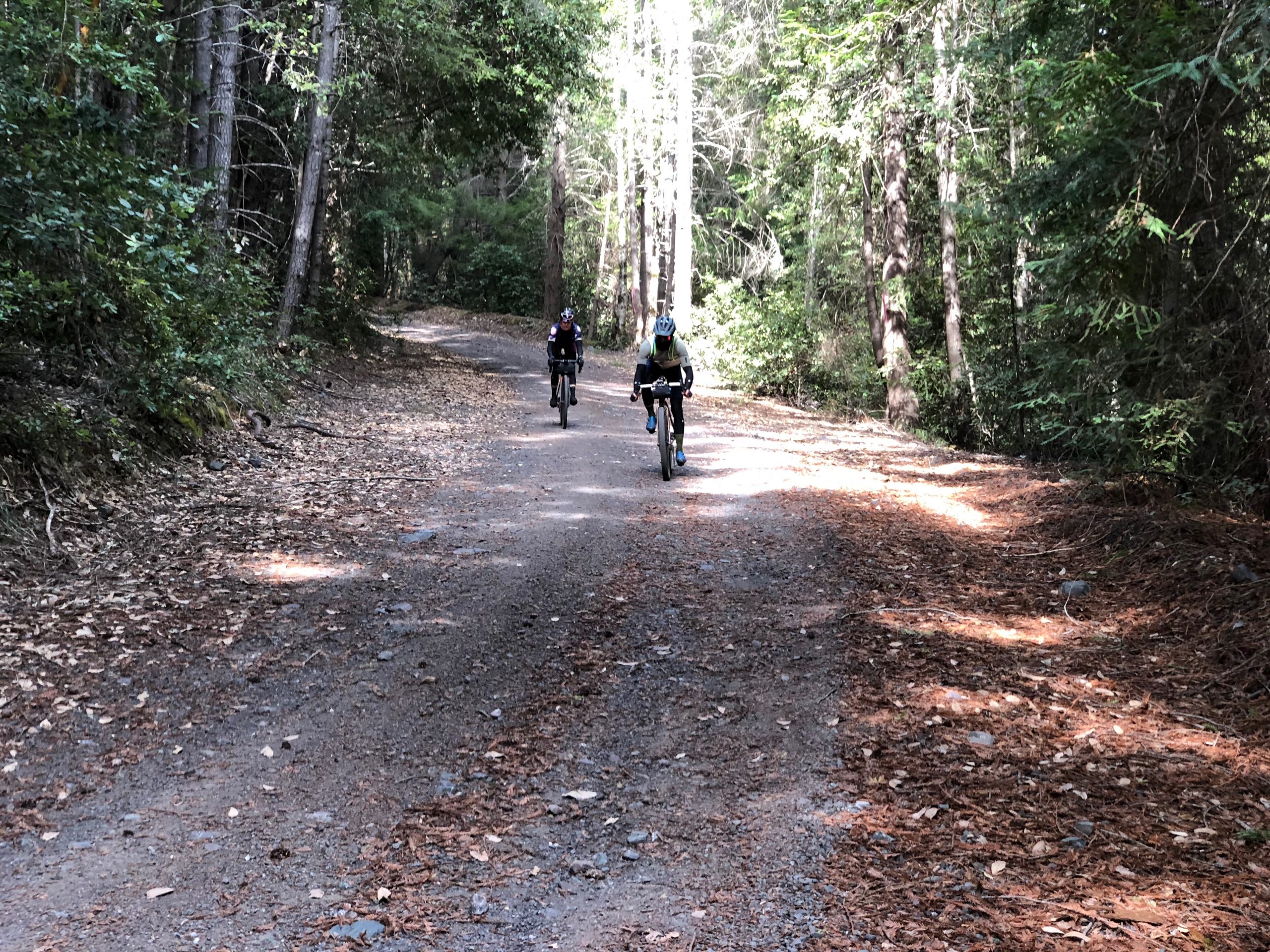 Sense memory
My recollection of Jackson from my trip through in the Grasshopper was that the singletrack started out as crazy fun. And that memory was accurate. The trail flowed up and down small rises, twisted between trees and offered secure traction to my nearly bald tires. I could feel myself smiling as I tore down the trail. I wasn't sure I'd go any faster on a mountain bike.
That I recalled thinking the trail was fun was only part of my memory, though. While I couldn't really picture what the trail did, I also have an emotional memory that at some point the fun gave way to crazy, to terrain that seemed more than I bargained for. As it turns out, that memory was accurate as well.
At roughly the 16-mile mark for us the trail went full double-black diamond and dropped 850 feet in 1.5 miles. The only time the grade wasn't in double digits was just as it entered a switchback, many of which were so steep I couldn't negotiate them even with a dropper post. Eric had no such trouble and rolled away as I hiked down one pitch while holding the brakes on my bike. I did plenty more of that.
The trail we were on was truly meant for today's mountain bikes. The steeps were so vertiginous I'd have gone over the bar on my early 26-inchers. Narrow trail cut across the banked forest, often with near vertical hillside on one side and nothing but air and tree trunks to the other.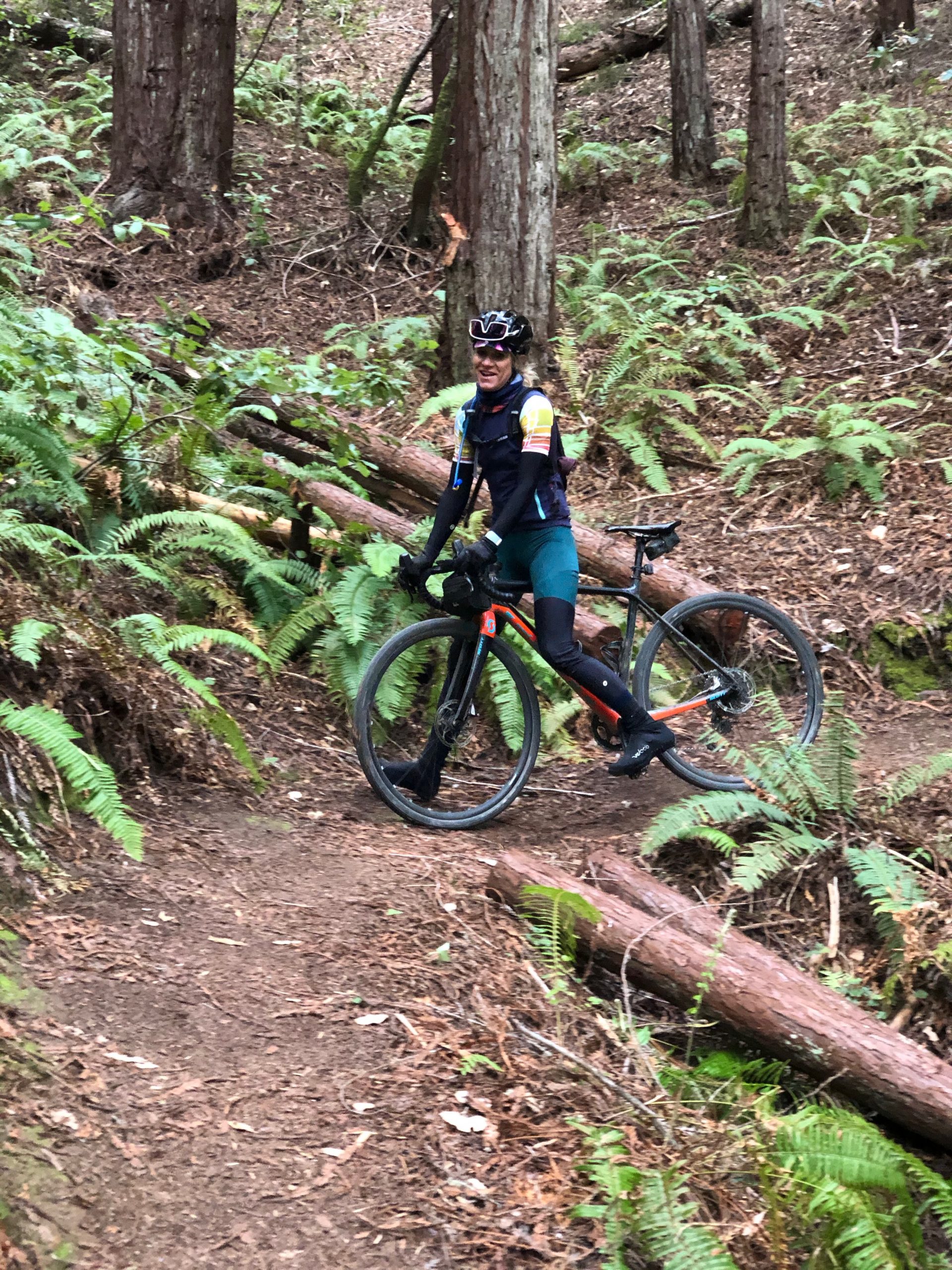 Dismounting the bike periodically gave me plenty of chances to soak in the forest. The deep green of the redwood branches formed a roof that gave the forest a nearly indoor quality. And unlike my experience of growing up in the South where understory prevents anyone from seeing much more than a few feet ahead, inside Jackson, I could at times see 100 meters or more and take in the floor of pine duff, the shag of emerald ferns. The redwood trunks, which rose straight as skyscrapers, and often as tall, lent the sense that there was some larger pattern afoot, like a marching band viewed from the edge of the field.
Maybe half way down we encountered an intersection of trails. Eric was waiting and I took the opportunity to eat a bite as we waited for her arrival. To my surprise, however, the next person to roll up was a mountain biking friend from here in Santa Rosa. And then friend after her and after her. They'd made the two-hour drive up that morning for a day in the forest.
It was after reaching the forest floor and taking that deep breath that releases the pent-up anxiety that I rolled up on the root-edged drop. Quite the it's-not-over-yet moment.
When we finally reached the dirt road that parallels Big River I began yo-yoing off the back and the reality is that Pia and Eric were riding side-by-side. And that road seemed to go on forever. When we began to see hikers and people walking their dogs it was like seeing a town-limit sign. Even though it meant pulling our buffs back up, I was grateful to know my torched legs were about to find their rest.
Did I miss riding Ukiah-Comptche and Low Gap? Well, the dirt more than the asphalt, but if I'd tried to ride the rest, which took Eric and Pia another four hours, I'd have finished by moonlight. We made sure they were stocked up and then I changed and we staggered (okay, I staggered, she strolled) to a sandwich place for big subs that we ate in her SUV while overlooking the ocean. I love bikes, but man, I wouldn't have traded that for fresh legs.
Despite being underprepared for our adventure, I am grateful I got the invite and glad I went. And if I imprint only one detail from the weekend, it would be that view from the top of the big climb on our first day and the sense of wonder I felt. Perhaps my feeling is best summed up by a comment Eric made as we wound through Jackson. He suggested that if someone gave him the opportunity to ride nothing but Jackson Demo Forest for the rest of his life, and forego all other locales, he'd probably say yes.
---
We hope you like TCI. If you're here, we're friends. Having said that, we can't do this the way it needs to be done solely as a labor of love. If you get a lift out of our work, help us keep it going by subscribing now. It's cheap. Like a small Slurpee. Or a ten pack of tube socks.