Have you been to the bike swap, a fluorescent, niche Burning Man for the hoarders and hopeful, a flea market where no one is selling tube socks, but water bottles of curious provenance abound. The bike community, or at least the resourceful part of it, comes together to wring some dollars out of overstuffed parts bins and pan for gold in the effluent of mechanical detritus. The bike swap smells like corrosion, lube, and dashed hopes.
Tim who used to own the bike shop, but sold it, but kinda wishes he hadn't, is here with XS jerseys from rides he sponsored. The colors are from a different era, brighter, more cheerful. You know, like Tim used to be. Mostly what Tim earns for his effort is a bunch of folks stopping by to tell him how much they enjoyed those rides. They still have, and might even wear, the jersey.
Tina, Tim's wife, is by the door handing balloons to children. The balloons are mostly, thereafter, slowly orbiting the ventilation duct at the peak of the ceiling, their strings dancing merrily to a tune no one is playing. Tina, like a reverse-height-phobic, resolutely refuses to look up. Bless her heart.
Jerry has a tableful of ancient Sturmey Archer hubs he's patiently acquired throughout the year on eBay and then painstakingly restored at his basement workbench. He is engaged in animated conversation with Bob about what wonderful things Sturmey Archer hubs are. Everyone else in the room drifts past his table, smiling amiably, or is it pityingly? Jerry should have been British. Then he would have been termed an eccentric and valued (pitied) as a sort of cultural icon.
Jerry's table looks like an assortment of odd fishing reels, which is better than most, which display the disembodied remains of a thousand complete bikes. You have to wonder where all the frames went. Have they all succumbed to dent, rust and rupture? Is there some cosmic game of musical chairs in which the less corrosive bits try to end up on a rolling bike before the music stops. By the time they've reached the swap meet, the music has most certainly ceased playing. The silence is deafening.
Look, a bin of single pedals.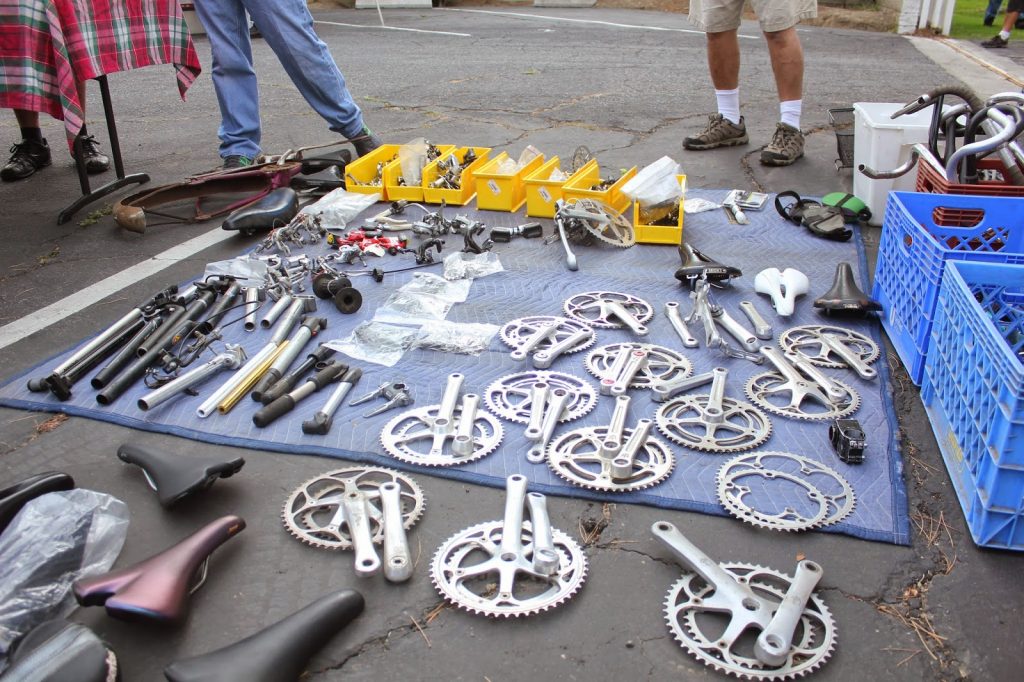 The big winner at the bike swap is the young woman with the shaved head at the Bike's Not Bombs table. She has sold an array of cheap, useful parts the organization has spent the last year scavenging from abandoned and donated bikes, AND she's going to receive the entire stock of unsold parts at the end of the meet, as disappointed merchants approach her, one-by-one, to avoid having to pack their stuff back into their car trunks. The abandoned bits will find their ways onto project bikes being cooked up in the group's "kitchen," and will somehow make it not possible for explosive munitions to be built, though quite how, no one can explain.
The bike swap is a Morris dance. It's a ren fair. It's a tupperware party for people like you and me. It sounds as though I don't like the bike swap, but that's not true. I love it too much. I'm a treasure hunter, a believer in the usefulness of bent metal, a lover of exotic anodization. If anything, I want the bike swap to be so much more than it is, and I want someone to show up and sell churros.