As we write this the air is filled with so much smoke it's coming in the house, fires are raging all around us in Northern California, and we can't see friends because of COVID-19. This is, in every way, an escape from the realities of 2020. We feel privileged to have had the health, time, and ability to make this trip happen right before fire season, and yes, we are using this blog as a way to stick our heads in the sand for just a bit longer. Wishing all our friends good health and safety, and thinking about all of our favorite trees standing tall against yet another year of wildfires.
Route overview:
Nevada City → Truckee → around Lake Tahoe CCW → Verdi→ Forest City → Nevada City.
Strava is linked with each day below.
Full
Ride With GPS route here
, however we have a few modifications since actually riding it.
387 miles
65% dirt, 35% paved/path/road
41,494 ft of climbing
10 days
Many, many glorious hours of hike-a-bike
August 6 was my 40th birthday, and the best way I could think to celebrate is to ride my bike for (approximately) 400 miles out in the middle of nowhere. Because of the ongoing pandemic, going too far from home was out of the question. Since moving from Grass Valley in 2015 I still think of it as a home away from home, and given that it's only about a half a tank of gas away, that felt acceptable and became our launching point. I spent a solid month during my summer break planning this route, with lots of help from Adam, looking at every little detail; planning water locations and stopping points and grocery stores and resupply points. To finally see it come to life in person was incredible, even through all of the type 2 fun parts.
We splurged the night before leaving, and stayed in a tent cabin at the Inn Town Camp Ground in Nevada City. It was a perfect location, and made it easy to have most of our things packed and ready to roll in the morning. We met up with some friends that night for a (socially distanced outside) beer, and enjoyed some delicious Detroit style pizza for dinner. Pizza was also on the menu for breakfast, and we headed out as planned around 7:30 am. Little did we know that our friend Mark was watching us on the tracker, and planned to come surprise us along the Pioneer Trail (thanks Mark!).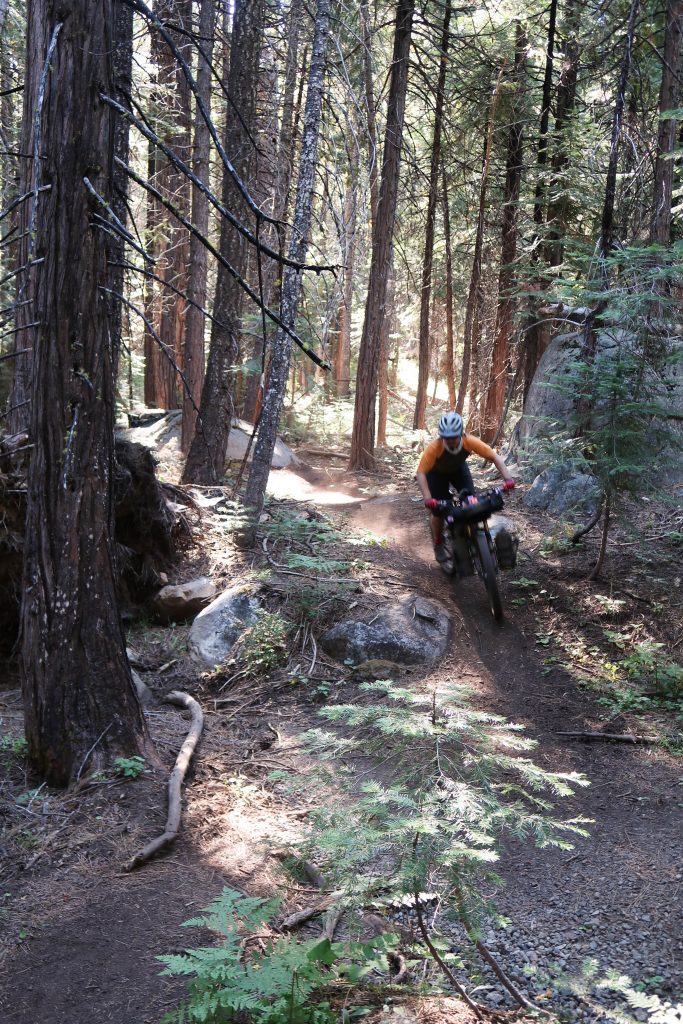 Our route out of town started along some of our favorite flume trails, and onto the Pioneer Trail, which runs for approximately 25 miles parallel to Highway 20. We took the Spaulding Lake Trail around the lake, and fortunately ran into some hikers who pointed us onto the newer reroute towards Fordyce Falls. The reroute wasn't listed on Trailforks yet, and came just at the moment we were about to head into the worst hike-a-bike section (of that day). The reroute was beautiful, and mostly rideable, save for a very low flume under-crossing, and some typical Grouse goodness (thanks
BONC
!).
We arrived at the top of Fordyce Falls, with not another soul in sight, and set up camp just in time to make dinner and watch the sun set.
Who doesn't love a good hike-a-bike (HAB) for breakfast?! As expected, getting out of Grouse fully loaded down was about 1.5 hours of hiking, with a little riding sprinkled in. Luckily it's spectacularly beautiful, so it's hard to be mad for too long. Thankfully no one was around to hear Adam yelling at the gnats that were swarming us.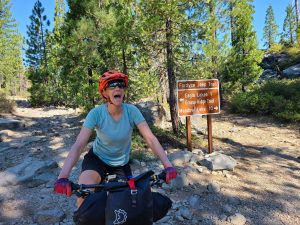 Once off of Grouse Ridge Trail, we took the jeep roads down to Indian Springs Campground, which is at the Eagle Lakes exit if you're on I-80. This was a solid reminder that jeep roads and fire roads and even gravel roads are all very different categories. The fact that people can actually get vehicles up and/or down any of that is totally mind blowing.
Another category of trail we love very much; cutty trails. A connector Adam scouted a while back via Google Earth, and we confirmed to in fact "go through" by Strava stalking and emailing some local friends, we will from here on refer to as "The Bullshit." This cutty on steroids connects the Eagle Lakes exit to Cisco Grove, avoiding riding on I-80 for one exit. It is absolutely not rideable, and was barely hike-a-bikeable, up and down, which there was a lot of. At a few points it was so loose and steep that we had to both push one bike up at a time (both our bikes weighed in at about 60 pounds each). The Bullshit does give a pretty awesome view of the interstate, which one of us still maintains would not have been better.
Elapsed time on The Bullshit: 1.5 hours.
Distance covered on The Bullshit: 1 mile.
PRO TIP: Just ride I-80. Don't say we didn't warn you.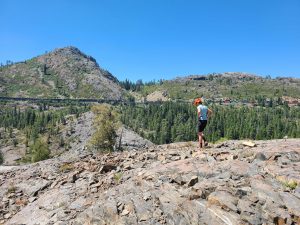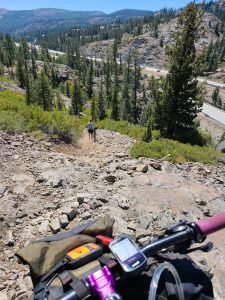 Our route into Truckee took us through the old train tunnels above Donner Lake and into the Yogi's area singletrack; both of which made the rest of the day worth all the early suffering.
Also making us forget about the morning hikes was a burrito and coke waiting for us at Amber's house, and a river to soak our tired toes in. Thankfully no one had reserved the campsite (aka, her back yard), and that is where we spent night number two. We had intended to get about 10 miles farther for the day, but with the Grouse hiking and The Bullshit, we were happy to call it quits early, and do some route shuffling the next day.
Many parts of the route around Lake Tahoe were taken from the
Bones to Blue
bikepacking race, which was extremely helpful in making a few connections happen. For better or worse, we were going in the opposite direction as the race.
Our only goal for the day: get to South Lake Tahoe in time for dinner with Carly, Matt, and Nathan. With Amber as our local Truckee guide, we were on dirt from her house in about 5 minutes, and climbed up through the Sawtooth area on a lovely fireroad. We were treated to the Deer Creek singletrack descent, ending at highway 89. This is where we parted ways with Amber, and headed off up the Western States Connector trail from Squaw Valley and into Alpine Meadows. It was at this point, while climbing a trail that looked like it was clearly a very fun descent, that it dawned on Ana we might be doing this entire loop in the wrong direction…or maybe we were having a bit of HABPTSD from yesterday. Because of The Bullshit delay, we decided to cut out Stanford Rock trail (backwards), and after further inspection it looks like that was a solid decision. Instead, after dropping down to Alpine, we climbed Deer Park to Rusty's and there began the love affair with the Tahoe Rim Trail (TRT). More on this gem later.
Unfortunately for cyclists, the TRT goes through Desolation Wilderness (no bikes) and joins with the PCT (no bikes) for the western section of the lake. This leaves cyclists with no choice but to pound pavement. What is fortunate is that much of the west shore is adorned with miles and miles of bike paths, until it's time to go up and around Emerald Bay. Highway 89 around Emerald Bay is a grind, with not much of a shoulder, but being towards the end of the day and too tired to complain, we put our heads down and managed to tune out most of the annoyances. Plus, the view of Emerald Bay is pretty spectacular.
Arriving in South Lake Tahoe once again reminded us how great our friends are. Carly had not only a spare bedroom and shower for us, but she and Matt made an incredible home cooked dinner, AND a breakfast for kings! Nathan also joined us, and for one beautifully warm summer night in the mountains the world felt pretty normal.
Carly's house was our first re-supply for backpacking food and other snacks, which we had shipped from REI before our trip, along with a few grocery item staples we had Nathan pick up for us (salami, hard cheese, and Ritz was our primary lunch for most of the trip).
After two and a half long days of suffering alone-together, it felt good to leave on day 4 with a solid crew of bad decision makers in tow. We are so glad we have friends who are easily talked into terrible ideas. Carly, Matt, and Amber signed up for the day shift, while Nathan packed to join us for a quick overnight.
After assessing our planned route, we decided on a slight modification, knowing that getting up to Star Lake was already going to be a long day. We managed to find some nice bike paths which took us through Meyers, and from there we climbed S. Upper Truckee Rd which eventually brought us back on the TRT. We settled in for a long day of techy climbing, and with half our group not loaded down we spread out pretty quickly.
---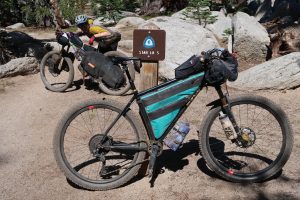 We had a few rendezvous points for snack breaks and views, and a few breaks while Nathan made some "adjustments" to his setup after some overzealous riding. Once we reached the 9,000 foot elevation zone, it was really every rider for himself. Reaching a peak elevation on our trip of 9,700 going over Freel Pass, even the smooth parts of the TRT felt like a chore. Once over the pass, the short and fun descent to Star Lake was a welcome sight.
Having just spent the better part of the day riding in what felt like the middle of nowhere, it was a bit surprising to find so many people already set up to camp at Star Lake. There are many other (shorter) access trails to the lake, allowing hikers and bikers to make a quick day trip from SLT. I suppose we should've been more prepared for the crowds given it was a Saturday. Speaking of people, we had a fun surprise by yet more friends – Marcus and Amanda showed up at the lake with fresh socks and a beer in hand! Thank you again, friends!
After waving goodbye to our day-trip portion of the crew, we set up camp just above the crowds with Nathan, and enjoyed what turned out to be an unexpectedly warm evening above 9,000 ft.
This is where the love affair with the TRT really set in. Lucky for Nathan he joined for one of the most fun days of the trip (not even type 2 fun!). The
Tahoe Rim Trail
is truly an engineered masterpiece; cutting through mountain sides that seem like there should be no place to reasonably build a trail, winding through endless swooping turns in the trees, rocks that beg you to come play (only to be reminded that your bike is currently 60 pounds), mountain passes looking straight down into Nevada on one side and California on the other, and endless vistas and singletrack winding through the high country of the Sierras.
We spent most of the morning descending down to Heavenly, where Nathan peeled off on Van Sickle back to South Lake, and we headed for burgers at The Fox & Hound in Summit Village.
The rest of the day was spent on the long climb from Kingsbury to Spooner, which started off hot and exposed, but soon turned pleasant and shaded and again left us marveling at the TRT and all that it has to offer; we were amazed at all of the built up features on this particular section, wondering once again if we might be going the wrong way. But, soon enough, from the overlook near Genoa Peak down to Spooner Lake we were happily hooting and hollering all the way down the other side.
Passing around Spooner (bikes have to jump on the road, again, but only for about a mile), we started up the fireroad towards Marlette. Just before the road kicks up something terrible, there is a back country campground off to the right, where we found one other couple but otherwise had the place to ourselves.
What we remembered as being the hardest climb in existence up to Marlette lake, probably seared into our memories from being un-acclimated to altitude and unprepared for what was ahead on a trip with our friends from Virginia 5 years ago, turned out to be a short and uneventful climb up to the Flume Trail.
The Flume Trail is not what you would call an "interesting" trail in terms of terrain – it's flat and mostly sandy – but the views straight down to the lake are like no other. And after 5 days of hard, technical riding, an easy pedal was a welcome change.
We went from the Marlette Flume trail to the Incline Flume Trail, across Diamond Peak, and onto one of our favorite descents, Tyrolean Downhill. We were able to meet up with Marcus for lunch in Incline, and headed out to what we thought might be a mostly manageable rest of the day.
Enter Martis. Armed with only topo and satellite views from the computer at home, admittedly there were parts of this route that could have been made better. Much, much better. But, that's the fun of these types of adventures, right? The trail we took through much of the Martis Peak area was quite obviously another ripping fun descent, if going the other way. Many parts were our favorite type of bush-whacking, and we did our best to just imagine the feeling of going downhill, while we pushed our bikes up. Quite possibly the worst decision of the day was to get off of the route (what looked like more pushing up a black trail) and instead took a fireroad "shortcut." Really, we know better when a trail is named "Powerline trail" that it should not be attempted, especially in the climbing direction, but bad decisions were made, and we survived, and there's no need to point fingers….
Throughout most of our route, the water crossings were running as expected, and plentiful enough that if you passed up one there was sure to be another around the bend. This amount of water access was wildly different from all of our past trips in the desert, and we had been fortunate until now to have camped with a water source nearby every night. This makes cooking and rinsing off the day's dust a luxury. Such was mistake number two of the day, assuming that Griff Creek would actually contain water. After passing up two fairly voluminous streams, we found ourselves not low on water for immediate needs, but if we planned to camp without a water source things would be tight by the morning.
Griff Creek Trail was a lovely climb as we inched into dusk, and found ourselves back on the TRT for a few miles. This was possibly our most unknown section of route, with no real planned camping stop. Turning off of the TRT (it heads back in the wrong direction at this point), we got to an open gate to an obviously active logging area, with many signs warning against trespassing. With the only other option being riding highway 89, we chanced it and only had to hit the deck once when we approached the camp of the crew working in the area. We decided they were probably not in the business of enforcing trespassers, took our chances moving past quickly, and made our way through the property without any issues. We did cross what looked like a well-worn singletrack trail, presumably headed towards Northstar, and part of the Martis Peak trail network.
Once out of the private property – and onto property of unknown ownership – we found a meadow to camp in, unfortunately without a water source. We had just enough water for dinner, as long as we didn't need a hot breakfast in the morning. Adam recorded coyotes howling through the night, and we saw two in the morning trotting by, checking out who was camped on their property.
After we watched the coyotes stroll around us, we had an easy 10 miles into the town of Glenshire, an outskirt of Truckee.
While making the route, this section was a game of scouting Google Earth and piecing together logging roads to a small trail system behind a private housing community in Glenshire. In some of the scouting, we found what looked like it had to be a tree struck by lightning, and split exactly in two. The route went right past, so we pulled off to do some scouting. We found the tree, or rather trees plural, which was pretty cool in it's own right, but it was not in fact a lightning tree. Instead it looked like two huge identical trees, that happened to have fallen exactly 180-degrees from each other.
We found a delicious breakfast burrito and coffee at the Glenshire General Store, and were on our way to find the Tahoe-Pyramid Trail.
The TPT is a 114 mile long (mostly dirt!) trail that connects Tahoe City with Pyramid Lake. We were only riding the 16-mile Hirschdale to Verdi section, but this was a super neat section. It is hot and exposed, but it dips down close to the Truckee River so there are plenty of spots to cool off. The route follows historic Route 40, and there are even some old cars along the side, and hints of where it used to be paved. The entire trail runs right in between I-80 on one side, and the river and train tracks on the other. So while it's not your typical forested quiet mountain bike trail, it is a cool feeling to be squashed in the middle of civilization, totally protected and riding mostly dirt. Thankfully, even on our "mellow" day we managed to find some hike-a-biking to keep the streak alive.
We had a hotel room reserved in the Boomtown Casino, just outside of Verdi. Right nextdoor is a Cabella's, and served as our second (and final) resupply of backpacking food, along with many other snacks found at the Chevron.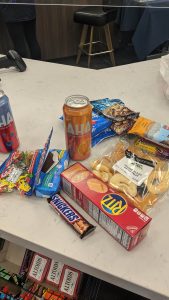 Adam was the laundry hero of the trip; the hotel had said there was laundry on site, but instead he had to ride over the the KOA and sit outside in our only two not-terribly-dirty clothing items – a long sleeve wool shirt and long pants. After waiting in the heat while severely overdressed for the laundry, he journeyed down to the casino floor in search of a cold beverage. After wandering aimlessly for far too long, he was able to order a beer from a cocktail waitress. While savoring that 10 ounce beer, he came to the conclusion that the only thing worse than a casino is an empty casino, and quickly retreated back to the hotel room.
Grateful for clean clothes, a shower, bed, AC, and room service we went to bed early with bikes packed and ready for an early departure to beat the heat…or so we had planned.
This section of route – from Verdi to Forest City – was copied from the maker of the
Trans North California
event (thank you for fielding my questions!). The TNC was actually what inspired most of this adventure, except that logistically we couldn't get together enough time to do a point-to-point ride, so created this route. It was fun to compare someone else's route with what we had come up with, and learn that we aren't the only ones who love a good HAB.
We had anticipated the climb out of Verdi on Henness Pass Road was going to be hot, unshaded, and unrelenting, so had planned for an early morning start. Unfortunately, Adam's nose had other ideas. After an hour and a half of his worst bloody nose on record, we gingerly started out on our bikes. Fortunately this was a one-and-done event for the rest of the day. The second thing to happen in our favor is that the climb turned out to be beautiful, not hot, somewhat shaded, and completely avoidable! We could've opted to simply stay on Henness Pass Road, instead of routing up and over Beacon Point. I'll just trust the event director had his reasons. And, it had some stunning views of where we had been earlier that morning, and the day before, so we were happy enough.
The route took us mostly along Henness Pass Road, which is a fantastic mix of chunky babyhead rocks, mellow climbs, and river crossings, as well as some sections off of Henness Pass which were equally enjoyable. The route for this day included: a short section of hiking through the woods with no trail to be found, but the GPS was right on the mark and we popped back out on the road; a tour of More's Station and the Kyburz Petroglyph; cows; an incredible waterfall canyon just before Webber Lake; and Webber Lake, where we snagged the last camp site available and went for a swim!
"…on one infamous day, Webber Lake's serenity was ruptured by gunshots.
James O'Neill, a disgruntled employee of dairyman and hotel operator Jack Woodward, took matters in his own hands after a dispute with Woodward and shot him to death, according to historical accounts. O'Neill was taken to Downieville to face justice—even though the murder weapon was never found—and became the last person to be hanged on the Downieville gallows. More than 100 years later Webber Lake caretaker Doug Garton discovered a Civil War–era pistol hidden in a well on the property. Today, that pistol is on display at the Downieville museum, as the likely revolver wielded by O'Neill." —
Tahoe Quarterly
A chilly morning with fog on the lake led us back onto Henness Pass Road for a better part of the rest of the day. Henness Pass Road is part of the California Trail, and has some historical markers with quotes from traveler's in the 1850's.
The true highlight of this day was stopping to take a photo of one of the markers at Henness Pass, and realizing that right smack next to us, looming across the valley, were the Sierra Buttes! It was fitting that this should have been the Downieville Classic weekend, but instead we were getting a new view of one of our favorite places.
After about 30 miles on Henness Pass Road, including one top-notch HAB down to a water pipe trail, we hit the north-east side of the Forest City trail network. For about 13 glorious miles we swooped and turned and flowed through the trees, dropping down into the town of Forest, crossing all of the signature
FTA
bridges and rock work, and climbing back out to Henness Pass Road again.
We knew we would hit the Lost Nugget gas station at mile 60 for the day, but we did not have a camping location pinned down. Again our plan was to wing it when we found something suitable. After filling up with snacks and water, we headed out towards Bullard's Bar. What we were not expecting was the primitive trail, resulting in a lot of hiking over trees and landslides, mosquitoes, and return of poison oak and heat at the lower elevation that we had been grateful to be without for most of our trip. The next 3-ish miles were unrelenting, and at the end of a long day with the sun setting, and the never-ending singletrack on the side of a cliff high above the reservoir, we were beginning to think we'd have to set up camp right in the middle of the trail, between the poison oak bushes.
In what most sane day-trippers would view as an uninhabitable place to camp, after 63 miles, tired, and hungry, we found paradise. There was just enough of a ledge on the hardpacked sand of the reservoir, as well as access down to the lake to go for a swim. The night was warm and clear, and for the first time in the trip the almost-full moon didn't come up to obstruct our view of the stars.
I can't think of any other way I would've rather spent my 40th birthday.
After only about another mile of uncleared trails, we finally reached the intersection where *most* people access Bullard's Bar, and from there on around the lake it was fun, fast, punchy climbs and descents for the next few miles. With the idea of home in our reaches, we decided to cut out of the trail system a couple miles early, and began our way through dirt and paved roads towards the South Yuba river, and on to Nevada City.
The South Yuba was expectedly packed for a hot Friday afternoon, but we managed to find an empty nook to eat lunch and take a swim. Then began the climb up Round Mountain trail, where the route could have possibly been made slightly easier with a few modifications, but we're better people for the added suffering (because the route had been pretty devoid of suffering up to this point).
From Round Mountain into town we used a quick dirt connector to get lost one last time before riding the road for a few miles, with the final drop into town on what used to be a favorite – the Coyote Street trail. It looked as we remembered it, until we just about flew off the edge of a huge swath bulldozed straight through, in what looked like maybe a fire break. We were able to scramble down and across the road, and reconnect with the trail, but it's always a bit of a bummer to see a favorite trail destroyed.
Once back in town we found our car still in the parking lot (hooray it wasn't towed!!), grabbed a shower at the Inn Town Campground (thanks for being understanding), and found our way back to Jernigan's Tap House, where we had started the trip just 10 short days ago. And, as it turns out, whichever direction we had done the route would have been the perfect direction.